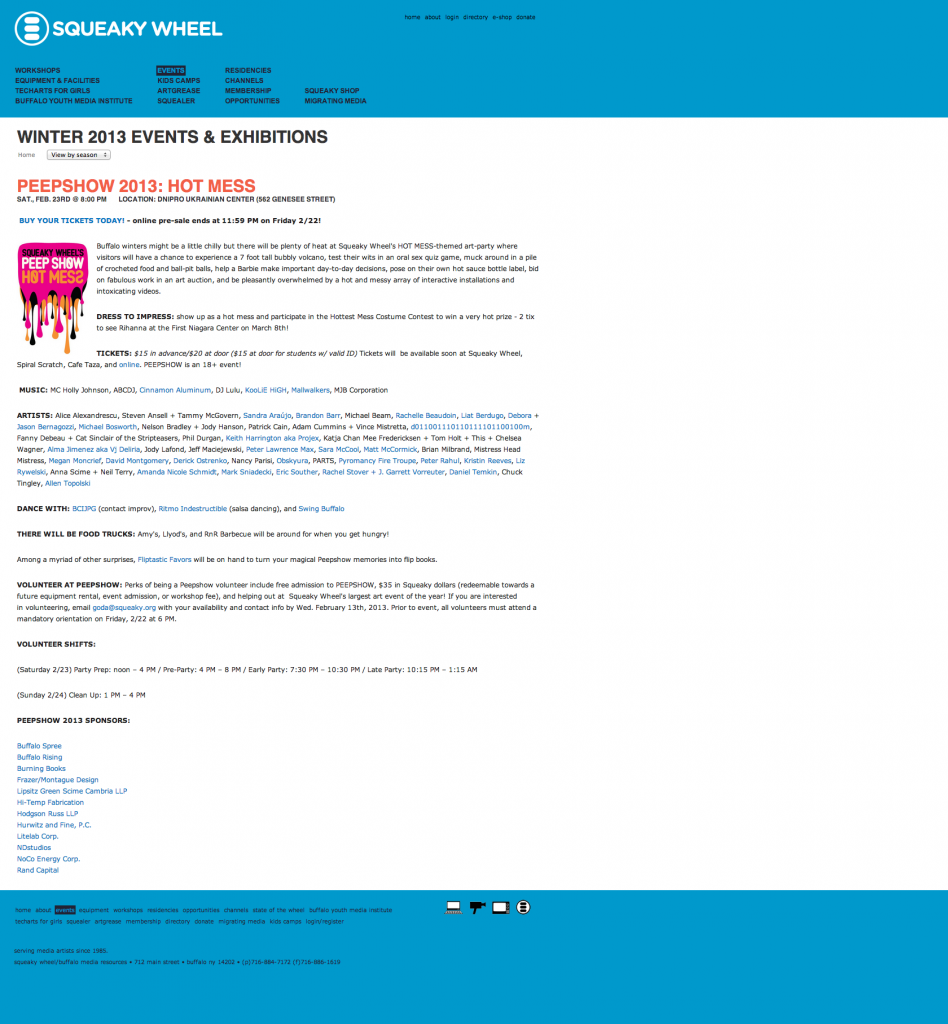 PEEPSHOW 2013: HOT MESS SAT., FEB. 23RD @ 8:00 PM       LOCATION: DNIPRO UKRAINIAN CENTER (562 GENESEE STREET)
 BUY YOUR TICKETS TODAY! - online pre-sale ends at 11:59 PM on Friday 2/22!
Buffalo winters might be a little chilly but there will be plenty of heat at
Squeaky Wheel's HOT MESS-themed art-party where visitors will have a chance to experience a 7 foot tall bubbly volcano, test their wits in an oral sex quiz game, muck around in a pile of crocheted food and ball-pit balls, help a Barbie make important day-to-day decisions, pose on their own hot sauce bottle label, bid on fabulous work in an art auction, and be pleasantly overwhelmed by a hot and messy array of interactive installations and intoxicating videos.
DRESS TO IMPRESS:
 show up as a hot mess and participate in the Hottest Mess Costume Contest to win a very hot prize - 2 tix to see Rihanna at the First Niagara Center on March 8th!
TICKETS: 
$15 in advance/$20 at door ($15 at door for students w/ valid ID) 
Tickets will  be available soon at Squeaky Wheel, Spiral Scratch, Cafe Taza, and 
online
. PEEPSHOW is an 18+ event!
MUSIC: 
MC Holly Johnson, ABCDJ, 
Cinnamon Aluminum
, DJ Lulu, 
KooLiE HiGH
, 
Mallwalkers
, MJB Corporation
ARTISTS:
 Alice Alexandrescu, Steven Ansell + Tammy McGovern, 
Sandra Araújo
, 
Brandon Barr
, Michael Beam, 
Rachelle Beaudoin
, 
Liat Berdugo
, 
Debora
 +
Jason Bernagozzi
, 
Michael Bosworth
, Nelson Bradley + Jody Hanson, Patrick Cain, Adam Cummins + Vince Mistretta, 
d011001110110111101100100m
,Fanny Debeau + Cat Sinclair of the Stripteasers, Phil Durgan, 
Keith Harrington aka Projex
, Katja Chan Mee Fredericksen + Tom Holt + This + Chelsea Wagner, 
Alma Jimenez aka Vj Deliria
, Jody Lafond, Jeff Maciejewski, 
Peter Lawrence Max
, 
Sara McCool
, 
Matt McCormick
, Brian Milbrand, Mistress Head Mistress, 
Megan Moncrief
, 
David Montgomery
, 
Derick Ostrenko
, Nancy Parisi, 
Obskyura
, PARTS, 
Pyromancy Fire Troupe
, 
Peter Rahul
, 
Kristin Reeves
, 
Liz Rywelski
, Anna Scime + Neil Terry, 
Amanda Nicole Schmidt
, 
Mark Sniadecki
, 
Eric Souther
, 
Rachel Stover + J. Garrett Vorreuter
, 
Daniel Temkin
, Chuck Tingley, 
Allen Topolski
DANCE WITH: 
BCIJPG
 (contact improv), 
Ritmo Indestructible
 (salsa dancing), and 
Swing Buffalo
THERE WILL BE FOOD TRUCKS: 
Amy's, Llyod's, and RnR Barbecue will be around for when you get hungry! Among a myriad of other surprises, 
Fliptastic Favors
 will be on hand to turn your magical Peepshow memories into flip books.
VOLUNTEER AT PEEPSHOW: 
Perks of being a Peepshow volunteer include free admission to PEEPSHOW, $35 in Squeaky dollars (redeemable towards a future equipment rental, event admission, or workshop fee), and helping out at  Squeaky Wheel's largest art event of the year! If you are interested in volunteering, email 
goda@squeaky.org
 with your availability and contact info by Wed. February 13th, 2013. Prior to event, all volunteers must attend a mandatory orientation on Friday, 2/22 at 6 PM.
VOLUNTEER SHIFTS: 
(Saturday 2/23) Party Prep: noon – 4 PM / Pre-Party: 4 PM – 8 PM / Early Party: 7:30 PM – 10:30 PM / Late Party: 10:15 PM – 1:15 AM (Sunday 2/24) Clean Up: 1 PM – 4 PM
PEEPSHOW 2013 SPONSORS:
Buffalo Spree
Buffalo Rising
Burning Books
Frazer/Montague Design
Lipsitz Green Scime Cambria LLP
Hi-Temp Fabrication
Hodgson Russ LLP
Hurwitz and Fine, P.C.
Litelab Corp.
NDstudios
NoCo Energy Corp.
Rand Capital
---