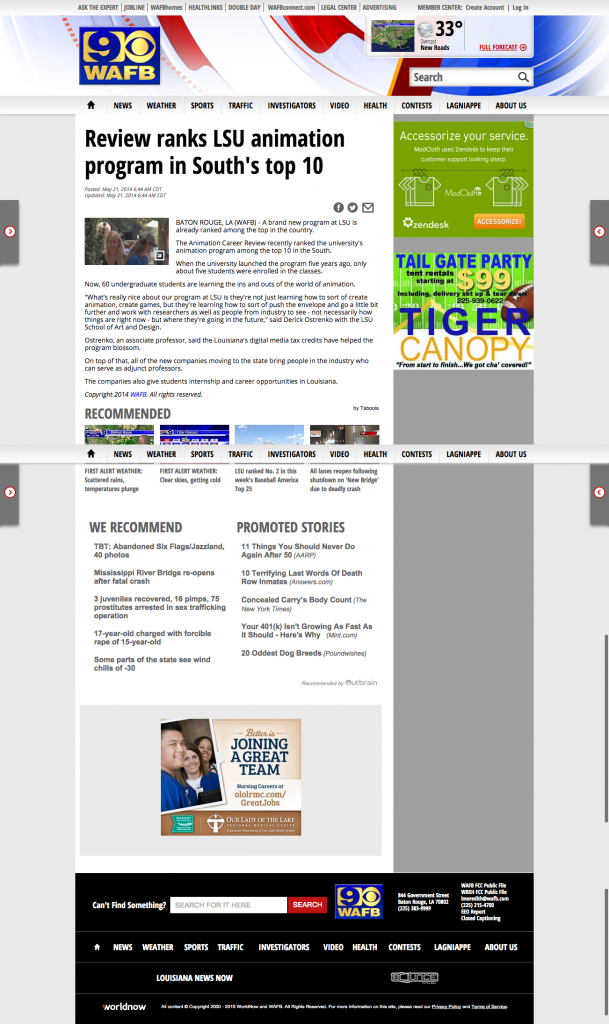 MEMBER CENTER:Create Account|Log InASK THE EXPERTJOBLINEWAFBhomesHEALTHLINKSDOUBLE DAY WAFBconnect.comLEGAL CENTERADVERTISING Review ranks LSU animation program in South's top 10 - WAFB 9 News Baton Rouge, Louisiana News, Weather, Sports 76°OvercastGonzalesFULL FORECAST HOME NEWS WEATHER SPORTS TRAFFIC INVESTIGATORS VIDEO HEALTH CONTESTS LAGNIAPPE ABOUT Review ranks LSU animation program in South's top 10 Posted: May 21, 2014 6:44 AM CDT Updated: May 21, 2014 6:44 AM CDT Share on facebookShare on twitterShare on email
BATON ROUGE, LA (WAFB) - A brand new program at LSU is already ranked among the top in the country.
The Animation Career Review recently ranked the university's animation program among the top 10 in the South.
When the university launched the program five years ago, only about five students were enrolled in the classes.
Now, 60 undergraduate students are learning the ins and outs of the world of animation.
"What's really nice about our program at LSU is they're not just learning how to sort of create animation, create games, but they're learning how to sort of push the envelope and go a little bit further and work with researchers as well as people from industry to see - not necessarily how things are right now - but where they're going in the future," said Derick Ostrenko with the LSU School of Art and Design.
Ostrenko, an associate professor, said the Louisiana's digital media tax credits have helped the program blossom.
On top of that, all of the new companies moving to the state bring people in the industry who can serve as adjunct professors.
The companies also give students internship and career opportunities in Louisiana.
Copyright 2014 WAFB. All rights reserved.
by TaboolaPromoted Links RECOMMENDED Enter Anyone's Name - See What They May Be Hiding Background Alert FIRST ALERT WEATHER: Fair skies, chilly They Go Into HARLEM And Start Tripping People. I Can't Stop Laughing! Little Budha Nats' Scherzer simulates everything, including anthem
WE RECOMMEND Police: Mom responding to escort ad when boy was injured, died Baton Rouge man arrested for allegedly raping 9-year-old girl Marine veteran gets his dying wish Heroic teen prevents bus from crashing after driver was knocked unconscious Groom has seizure, bride seizes another man to marry PROMOTED STORIES Dramatic Rescue for Two Dogs and Owner Stuck in Frozen Marsh (Vetstreet) 11 Things You Should Never Do Again After 50 (AARP) The 25 Dogs with the Longest Lifespans - Did Yours Make the Cut? (FindTheBest) 2 Teenagers Were Eager to Shovel Snow. Then the Police Paid a Visit. (The New York Times) It's not Junk: The Most Overlooked Garage Sale Items You Should Buy (Reader's Digest) Recommended by Can't Find Something?
844 Government Street Baton Rouge, LA 70802 (225) 383-9999 WAFB FCC Public File WBXH FCC Public File lmeredith@wafb.com (225) 215-4700 EEO Report Closed Captioning HOME NEWS WEATHER SPORTS TRAFFIC INVESTIGATORS VIDEO HEALTH CONTESTS LAGNIAPPE ABOUT LOUISIANA NEWS NOW BOUNCE TV All content © Copyright 2000 - 2015 WorldNow and WAFB. All Rights Reserved. For more information on this site, please read our Privacy Policy and Terms of Service.
Afroman announces retirement …
Police kill homeless man during …
---