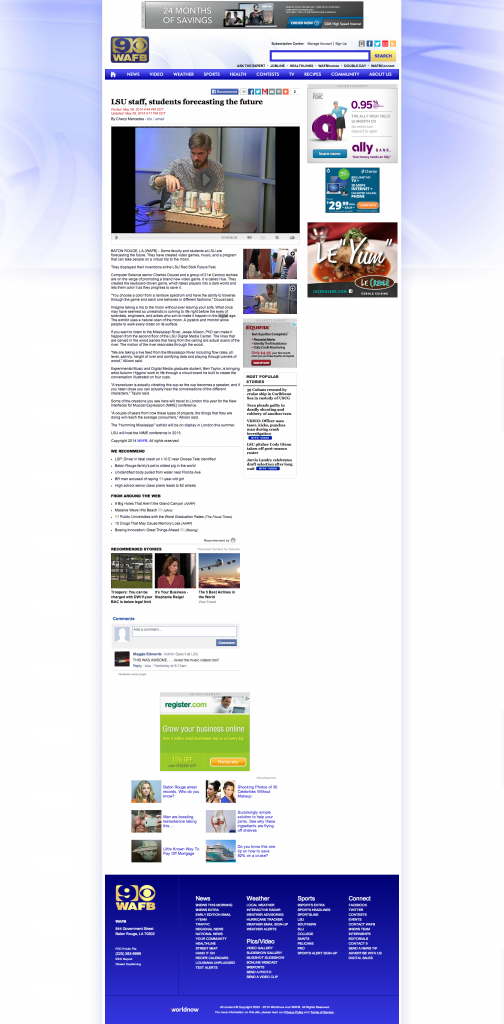 BATON ROUGE, LA (WAFB) -
Some faculty and students at LSU are forecasting the future. They have created video games, music, and a program that can take people on a virtual trip to the moon.
They displayed their inventions at the LSU Red Stick Future Fest.
Computer Science senior Charles Doucet and a group of 21st Century techies are on the verge of promoting a brand new video game. It is called Hue. They created the keyboard-driven game, which takes players into a dark world and lets them color it as they progress to save it.
"You choose a color from a rainbow spectrum and have the ability to traverse through the game and each one behaves in different fashions," Doucet said.
Imagine taking a trip to the moon without ever leaving your sofa. What once may have seemed so unrealistic is coming to life right before the eyes of scientists, engineers, and artists who aim to make it happen in the digital age. The exhibit uses a natural scan of the moon. A joystick and monitor allow people to walk every crater on its surface.
If you want to listen to the Mississippi River, Jesse Allison, PhD can make it happen from the second floor of the LSU Digital Media Center. The lines that are carved in the wood panels that hang from the ceiling are actual scans of the river. The motion of the river resonates through the wood.
"We are taking a live feed from the Mississippi River including flow rates, ph level, salinity, height of river and sonifying data and playing through panels of wood," Allison said.
Experimental Music and Digital Media graduate student, Ben Taylor, is bringing artist Autumn Higgins' work to life through a circuit board he built to create the conversation illustrated on four cups.
"A transducer is actually vibrating this cup so the cup becomes a speaker, and if you listen close you can actually hear the conversations of the different characters," Taylor said.
Some of the creations you see here will travel to London this year for the New Interfaces for Musical Expression (NIME) conference.
"A couple of years from now these types of projects, the things that they are doing will reach the average consumers," Allison said.
The "Humming Mississippi" exhibit will be on display in London this summer.
LSU will host the NIME conference in 2015. 
---